Joys of the Journey:
An Offering of Essays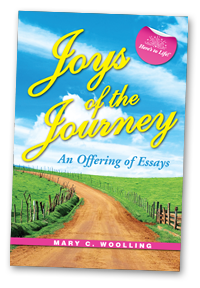 Author Mary C. Woolling invites you to step back from the hectic traffic of life's journey into an enchanting world of awaiting joys. Readers set out on a relaxing expedition of discoveries, comforts, and simple pleasures. On this refreshing high road, things happen at a restful pace and are viewed from a gentler perspective.
Mary cautions us not to be too hasty in our travels through this life for, in so doing, we might miss out on some of the greatest delights of our world that surround us in full measure. No matter what you may be facing in your journey today, Mary encourages her readers that a multitude of indisputable reasons to be joyful stretch out on the road before us.
In Joys of the Journey, you'll read heartwarming stories on subjects as diverse as the beauty of nature; an everyday hero; a time-honored quilt; an unforeseen world found within a sacred little chapel; and a nugget-filled overview of U.S. coinage.
This book also includes multiple journal pages to be used for readers to record their own unique thoughts and stories as they read along.
Such are the happy trails you will discover when you embark upon the Joys of the Journey.
Brightening the Corners:
Rays of Hope for Our World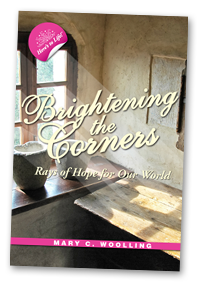 Brightening the Corners: Rays of Hope for Our World is a collection of vignettes inspired by feelings and experiences close to home, all viewed with a positive and cheerful outlook. An engaging raconteur, author Mary C. Woolling focuses on the abundant goodness to be found in every nook and cranny of your metaphorical house of life.
This book is divided into four cozy corners: Bright Outlook, Shining Seasons, Enlightening Stories, and Vibrant Viewpoints. Within its pages, you will read of the power of a hopeful word; the value of taking life one step at a time; the lasting impact of a little rag doll; and the amazing gift of the Pencil Lady.
Mary hopes not only to brighten your corners but also to illuminate your mind. Included within this book are multiple journal pages for readers to record their reflections triggered by reading these essays. Every one of us has a story, Mary explains, each unique and of significant value in the overall tapestry of life.
In our troubled and hurting world, a light in the window and a crackling fire on the hearth may be more important than we ever imagined, perhaps even serving as common ground from which to promote understanding, harmony, and world peace.