Welcome to the official website for Here's to Life! celebrating life in all its glory.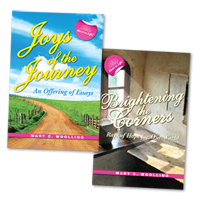 Through her books of inspirational essays and sentimental stories, author Mary C. Woolling hopes to comfort and encourage her readers by calling attention to the good, joyful, and lovely aspects of life.
Joys of the Journey:
An Offering of Essays
Click here to purchase your copy!
Brightening the Corners:
Rays of Hope for Our World
Click here to purchase your copy!
Mary writes, "We live in a beautiful world. In spite of challenge, conflict, suffering, and sorrow, God's abiding goodness surrounds us in full measure, even in the simplest of everyday things:
Chirruping robins in the trees,
Scent of lilacs on the breeze.
A cup of coffee, piping hot,
Sweet lullaby we'd long forgot…
Children's laughter and shouts of glee,
Blossoms pink on an apple tree.
Flash of lightning and roll of thunder,
The vaulted sky we're standing under.
Loving hand upon your shoulder,
Wise advice from someone older.
Winding trail toward mountains steepening,
Misty veil of twilight deepening…
As we make our way each day, beset by duties, dashes, and deadlines, we're apt to overlook blessings such as these. But when we take the time to stop and consider the beauty around us, we discover great happiness, valuable perspective, vanishing fears, and sustaining peace. Dear Reader, take a moment – right this moment – to savor the wonders in your midst."
Here's to Life! books also contain blank journal pages throughout, intended for readers to capture in writing their own unique thoughts and insights as they read along. Through journaling, we achieve a deeper understanding of ourselves, others, and even life itself. We also stand to gain rewards of personal affirmation and fulfillment.
These delights are cause for genuine celebration. Bring on the confetti! Here's to Life!